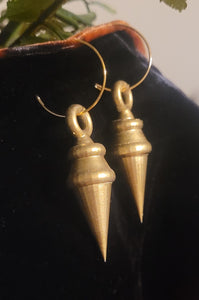 Yor Thorn Princess Earrings
These beautiful gold earrings look sharp enough to be a weapon in the hands of a master Assassin, like the infamous Thorn Princess. Or they could just be a beautiful accessory, like those worn by everyone's favorite totally normal family step-mom and wife, Yor Forger! Whether for cosplay or day-wear they're certain to look quite fetching wherever you may go, and however secret your anti Spy plans may be.
These earrings are made from high-quality eco-resin and placed on gold-colored stainless steel hoops. 
Clip-on clasp earrings and other materials are available upon request, please email us at askcosplaysenpai@gmail.com if you would like to discuss alternative options for the hoops.
---
We Also Recommend